How to be a leader who makes an impact online?
Have you started to feel frustrated when you lead online teams?
Are you wondering how you can effectively lead them without getting distracted or the events leading you?

Then this is for you!
Many business leaders, department manager, and team leasers like you feel that they struggle to make an impact as a leader when working online. Most feel they'd want more buy-in from their teams, they appear to be discussing round and round on the same topics, and they wish there was more action that led to results to show.
And a widespread belief is that teams can online work effectively together when they work physically together.
But virtual teams are here to stay.
When leading a team virtually
leaders have to work totally differently.
What are the challenges you face?
People are working in many teams in parallel!
Your success depends on how much your team stays focused on the goals and epxectations.
And here is how!
You need to overcome and solve …
CONFUSION In every organization and at an individual level there are many goals. Even simple targets add to the confusion of what needs to change. This makes it harder to accept a goal all together.
CONFLICT: People who are involved in many teams that the same time, feel that there are conflicting priorities. This makes it hard to decide what to do next strategically, leading to never-ending discussions loaded with conflict.
COMPETENCE: New goals and expectations require new skills and a change in behaviour. But many activities have a tight deadlines leaving the people struggling with their ability to perform them.
CONTRIBUTION: Targets can be so far fetch that it is hard to see what is changing. When people feel frustrated that their efforts remain unseen, they reduce their engagement, risking the success of the whole team.
When you are leading a team online,
you have no visibility over what they are doing.
How do you contribute to a team online?
The leader's role is to get a group of people to achieve common goals!
Your success depends on how much your team has a leader.
And here is how!
You need to master the way you …
COMMUNICATE THE GOALS: Get an agreement about the goals, everybody needs to understand and accept the goal.
DECIDE HOW THE PEOPLE CAN WORK: Make sure your team knows how they will work together and clear out any conflict of priorities.
DEVELOP EVERYONE TO TAKE ACTION: Make sure everybody is effective at what they do and solve any limitations.
FOLLOW-UP ON THE EFFORTS AND CONTRIBUTION: Help them see their own contribution and how the whole team is progressing.
Leaders organize a group of people
to achieve common goals.
Start to do things differently right now!
This is what will be different.

With Its Four Sides© of Leadership you immediately changes the way you see your role as a leader of a virtual team.
Within a short time you recognize what you need to focus on to become the one who is leading your team.
Your team meetings will become more purposeful and engaging, making your team focus more on what is essential for success.
After a while you will notice your team is more effective in communicating with each other and you are progressing faster towards the expected goals.

The Virtual Leader enables …
YOUR TEAM: See the four hindrances of good team work and how they influence your team. See the limitations for success in real life.
YOUR ROLE AS A LEADER: Apply Its Four Sides© of Leadership to your team's situation so you can see immediately what you need to focus on.
YOUR CHANGE: Get started and really Kick-Start your virtual leadership with four key exercises, defining your direction, your situation, your position and your actions.
YOUR DIRECTION: Take your next step with the unique Leader's Success Compass that gives you direction during all your touch points with your team.
The key to success is to get started.
Get access to the Virtual Leader today!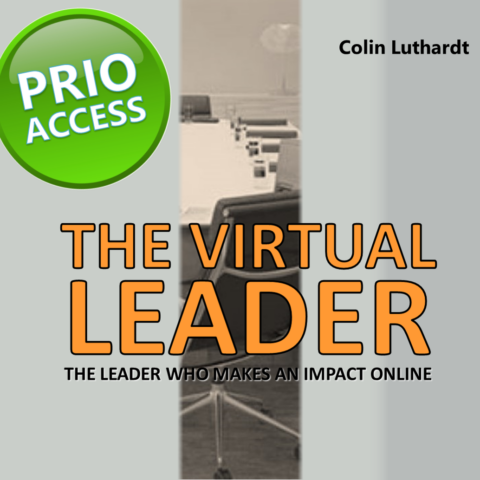 Specially bonus included for you!
Easy to get started.

Add your name to the Priority Access List and learn more about the Virtual Presenter.
Get priority information when the Virtual Leader is released.
1.       Access to Tips and Tricks
I will send you an invite to a group where I share some tips and tricks needed to be a great virtual leader, and this is not on Facebook.
2.       Priority information
As soon as you have access to the Teams group, you will have amazing information at your hands that can get you started immediately
3.       Invitations to occasional LIVE webinars
Occasionally I will do a LIVE webinar about sections of my book, the Virtual Leader.
This way you can see for yourself how you can be the leader who makes an impact online.
4.        Book Bonus Benefit
As a bonus for adding yourself to the priority access list I will share my complete audiobook, The Virtual Leader, for FREE!
The Virtual Leader.
Be the One who leads a team to success.
The Virtual Leader by Coach Colin!
What have users and readers said about the Virtual Leader?
"I can see myself with the hindrances, and I didn't know how to overcome them."
Global Lead Manager
"I really like it, this is not just management tools, it is really about leadership."
Business Manager Compliance
"It should be common sense, but it seems like common sense is not so common anymore."
MD Consulting
"I've read many management books and been on many management training, Its Four Sides of Leadership brings it all to the level of application of leadership."
Manager New Design
The Virtual Leader.
Giving you clear guidance how to lead virtual teams to success!
Get access now!
No expectation!
No commitment!
No cost!
But unmeasurable value and experience shared!
Please note three things:
If you are not a member of the Teams group you will want to register by contacting me and requesting access.
Microsoft Teams is required and you can be downloaded as a free app here or it comes with your Microsoft office subscription bundle
GDPR confirmation: By accessing the Teams site you agree to the privacy policy of this page.