How to be a presenter who makes an impact online?
Have you started to feel frustrated about the many online meetings and the poor quality of the presentations?
Are you starting to wonder how you can increase your impact when working virtually?
Then this is for you!
Many business leaders like you feel that they struggle to make an impact with their presentations online. They feel that they are isolated and they don't reach their audience. And when they speak to stakeholders, their clients or their team, they feel that the message doesn't come across, and nobody remembers what was said.
Four typical mistakes during online presentations
Technical Problems:
Many people face problems with audio, video, or screen sharing during presentations, disrupting the flow and causing frustration for both the presenter and the audience. Failing to prepare and minimize the impact of technical issues leads to a less confident and professional delivery. Similar to real-world scenarios, a poorly prepared delivery diminishes a presenter's credibility, message, and potentially their offer or business.
Overloaded slides:
Presentations overloaded with information, various fonts, poor-quality images, or irrelevant animations appear visually crammed and overwhelming.
In an attempt to cover everything in a limited time, presenters often create slides with excessive text or complex visuals, making them more suitable as self-study or report material.
Time Management:
In many presentations, there are segments that are best delivered as one piece, be it in a physical or virtual setting. This doesn't mean the entire presentation must be an uninterrupted monologue; scheduled times for questions or discussions can be communicated beforehand. Despite this, many presenters see a dynamic side discussion in an online chat during the presentation as engagement, not realizing its potential to be distracting from the message for both the audience and themselves, resulting in significant time loss.
Neglecting dynamics:

Respecting the audience and their needs extends beyond managing presentation time. A rushed presentation overloaded with information is a common problem, not only with online presentations.
The dynamics of a presentation and the audience's perception are influenced by the presenter's position, posture, and presence. Many show masters, newscasters, training moderators, and presenters stand while delivering their message.
To make an impact in the virtual environment
you have to work totally differently.
Leaders in business do presentations so they can impact their audience to change!
How do you make that impact online?
Your success depends on how you reach stake holders, team members and customers, so you impact them to change their opinion, their view, or take a decision.
And here is how!
You need to find ways how to …
CONNECT: Stay connected to their needs.
CAPTURE: Attention is key, capture their attention and help them keep it.
CREATE: Create Interaction and suspense throughout.
CHANGE: Help them anchor their change.
Why is it so hard to make a change?
Many managers and professional presenters in business may encounter several reasons that contribute to their resistance to change their way of doing presentations and start learning to avoid mistakes:
Old habits:

Many presenters may be comfortable with their current presentation style and methods as they have been doing it for a while. The familiarity of their routine provides a sense of security, making it challenging for them to step out of their comfort zone. The fear of the unknown or reluctance to disrupt established practices can hinder their willingness to embrace change. It is especially to change when everyone around is following the same dull patterns and the alternatives are not clear.
Awareness:
Many presenters feel isolated when doing presentations online, which in itself reduce the awareness of how a presentation is being perceived. Consequently, , presenters may not be fully aware of the need to adapt their presentation techniques or may not fully understand the potential benefits of doing so. It is hard to realize the urgency to change without a clear understanding of the impact of their current approach on audience engagement, communication effectiveness, and business outcomes, especially when there is no possibility for reflection or feedback.
Time:
Business professionals often face tight schedules and multiple responsibilities. The demands of day-to-day operations may make it challenging for them to allocate time for learning and implementing new presentation strategies. The perceived time investment required for training and adapting to new technologies can act as a barrier to change, especially when there is no clear training path available.
Technology:

Some professionals may face challenges in adapting to new technologies or digital tools commonly used for online presentations. With a lack of knowledge and familiarity about the few tools and functions that are needed to improve the performance makes them even more uncertain, increasing the barrier for the new technology. Overcoming this resistance requires providing adequate and structured training that builds confidence in delivering an impactful presentation in the virtual environment, without complicated software, complex system, or costly services.
Do you recognize any of those challenges? Then you read on!
Or take a shortcut and get immediate priority access to Coach Colin who can help you overcome these.
When you are doing online presentations
you have no control over what your audience is doing.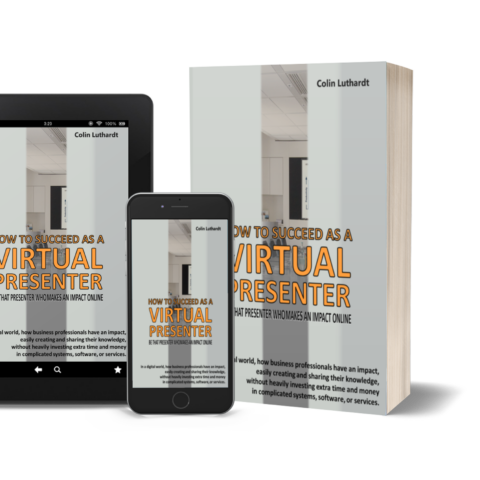 Maintain your position as a leader in business!
Get access to The Virtual Presenter
Its Four Sides© of the Virtual Presenter is a structured step-by-step approach that re-masters the way of doing presentations from the ground up.
It addresses the four sides that presenters need to master when wanting to do presentations successfully in the virtual environment.

PRESENTATION: Create a slide deck that impact the audience without learning to use complicated templates.
PRESENTER: Speak freely to your audience without struggling with lengthy speaker notes.
PERFORMANCE: Use simple web technology that enhance you and your message, without the use of complex systems or software.
PLATFORM: Share key elements of your content immediately, without involving extra people or costly services.
Are you aware of the risks?
Continuing down the same path, following the same pattern has tremendous risks for your position as a leader and your area of business.
How much longer can you afford not to change the way you are doing presentations online?
Innovation and Productivity

Failing to address the difficulties in engagement and communication online can lead to a decline in team connection and understanding. This may result in disengagement, reduced collaboration, and a lack of clarity in conveying important messages to the team.
This is why online teams complain that they struggle to work together effectively and cannot share ideas, which leads to a lack of innovation and productivity.
That is nothing that your team can afford to miss out on.
Unity and Alignment
It is easier to create unity and alignment around a topic with people in the real world, simply because everyone is present in the same place and can focus on the same thing. But most people who work online claim they lack connection and purpose.
Presenters who don't work to increase their impact when working online risk a decline in unity and alignment to their cause. And later they have to deal with misunderstandings, misalignment of goals, and missing enthusiasm for their ideas.
Personal and Business Image

Managers and business professionals resisting adaptation to the rapidly evolving business landscape and trends risk falling behind. This lack of adaptability in this key area can influence other opportunities, decrease the sense competitiveness and urgency, and demonstrate an inability to meet the evolving needs of the business and industry.
Staying current and embracing change is essential for sustained success.
Success

Many presentations are done with the purpose to influence others to change the way they are thinking or working. In a business landscape where agility and adaptability are highly valued, managers and business professionals who resist change risk putting their teams and organizations at a competitive disadvantage.
Competitors who embrace modern presentation methods may have an edge in terms of communication, collaboration, influence, and overall efficiency.
Are you looking to make improvements that have significant impact on your presentations online?
Take the next step here and get priority access to Coach Colin.
Being able to do impactful presentations virtually
is the most demanded skill in the modern world.
Start to do things differently right now!
This is what will be different.

Its Four Sides© of the Virtual Presenter empowers you to do professional virtual presentations from right behind your desk.
Within a short time you will have reconfigured your way of doing presentations.
Your slide deck will become easier to manage, yet more impactful to present. You will start to speak more freely to your audience. Your audience will perceive you as if you were in the room with them.
You will be able to master an interactive session with your audience all by yourself, without any further people or systems involved.

Its Four Sides© of the Virtual Presenter enables you to …
Develop your slide decks following the PURPOSEFUL PRESENTATIONS PRINCIPLE and connect with your audience needs and desires.
Capture their attention with the PASSIONATE PRESENTER PROTOCOL and speak freely to your audience.
Apply one of the POWERFUL PERFORMANCE PACKS that fits your needs and create interaction and suspense virtually.
Continue to impact your audience through the PRIMARY PROMOTER PLATFORM and create and share more key elements of your message.
Don't hesitate and stop doing virtual presentations that have little impact.
Take the next step here and get priority access to Coach Colin.
Do professional presentations from behind your desk,
without investing in complex systems or software, or costly services.
Get access to the Virtual Presenter today!
Specially bonus included for you!
Easy to get started.

Add your name to the Priority Access List and learn more about the Virtual Presenter.
1.       Book Bonus
My book "How to succeed as the Virtual Presenter" is available on Amazon, StoryTell, BookBeat and many more places.
Leaders who register here get my complete audiobook, The Virtual Presenter, for FREE to their email address.
2.     Tips and Tricks
When you share your business email address here I can invite you to a special group on MS Teams.
In this group you will have access to more tips and tricks with videos, audio or recordings. This is valuable for you to succeed as a virtual leader and lead your team to success online.
3.     Invitation to LIVE Masterclasses
Occasionally I will do a LIVE Masterclass about concepts, models, or tools from my book, the Virtual Presenter.
Leaders on my priority access list will be the first one's to know when these webinars take place. They will be able to join free of charge.
4.     Priority access to Coach Colin
Register and get an Orientation Call with Coach Colin so you can see for yourself how you can start your journey becoming even better presenter online. This call is for FREE and it is not a sales call.
Don't hesitate any more and start doing virtual presentations that impact your audience.
Get priority access to to Coach Colin and see for yourself how to do it.
It is so easy to be different from others when doing virtual presentations these days, and it is so easy to be so much better.
All you need to do is to take a decision to make the change.
The Virtual Presenter by Coach Colin!
What have users and readers said about the Virtual Presenter?
"If I had known this before, I could have been much more successful."
Global Product Manager
"After 25 years of experience I thought I knew everything about creating presentations. I was surprised how powerful this style is!"
Global Education Manager
"It was so easy to change my presentation, and it was amazing to see how the objections and question simply went away."
Sönke R, MD, Tripleston
"Colin worked with me on the sequence of my presentation, and I was hesitant when he turned it back-to-front.
But it worked smoothly first time."
Managing Director Sales
"We were looking to hire a consultant to train us, but this book already gave us inspiration to do things differently."
Lead Consultant, Mälardalen
The Virtual Presenter.
Remastering the way you present online from the ground up!
Get access now!
No expectation!
No commitment!
No cost!
But unmeasurable value and experience shared!
Please note three things:
If you are not a member of the Teams group you will want to register by contacting me and requesting access.
Microsoft Teams is required and you can be downloaded as a free app here or it comes with your Microsoft office subscription bundle
GDPR confirmation: By accessing the Teams site you agree to the privacy policy of this page.